Every unit in the PlayFACTO series begins with an engaging story that highlights the relevance and the importance of the Mathematical skill in our every day lives.
The PlayFACTO programme features comprehensive workbooks for ages 3 to 12 with activities developed to:
As learners read or listen to the story, they are able to reflect on their own experiences, and this very naturally captures their interest and motivates them to learn.
Engage students' interest
Enhance understanding of Mathematical concepts
Reinforce Maths knowledge
Professionally-crafted Maths manipulatives
High-quality wooden manipulative tools for learners to touch, think, feel and understand.
Learning is made fun and easy with:
Colourful and attractive manipulatives which are able to engage and stimulate learners' interest.
Each chapter in the PlayFACTO activity books is summarised with an interactive game that:
Reinforces the topic that the chapter has introduced
Acts a means of
assessment
to determine how much learners have understood
Encourages social skills, problem-solving skills and positive character-building
A Complete Maths Curriculum
The PlayFACTO curriculum provides materials, lesson plans and a syllabus that covers all Maths topics.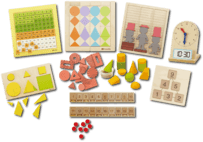 6 sets of books and manipulatives
(1-year programme) for each child of age 6 to 12.

12 sets of books and manipulatives (1-year programme) for each child of age 3 to 5.
PlayFACTO Basic caters to all students in Malaysia with workbooks for:
English-medium national schools
English-medium private & international schools
Chinese-medium private & national schools
Enquire Now